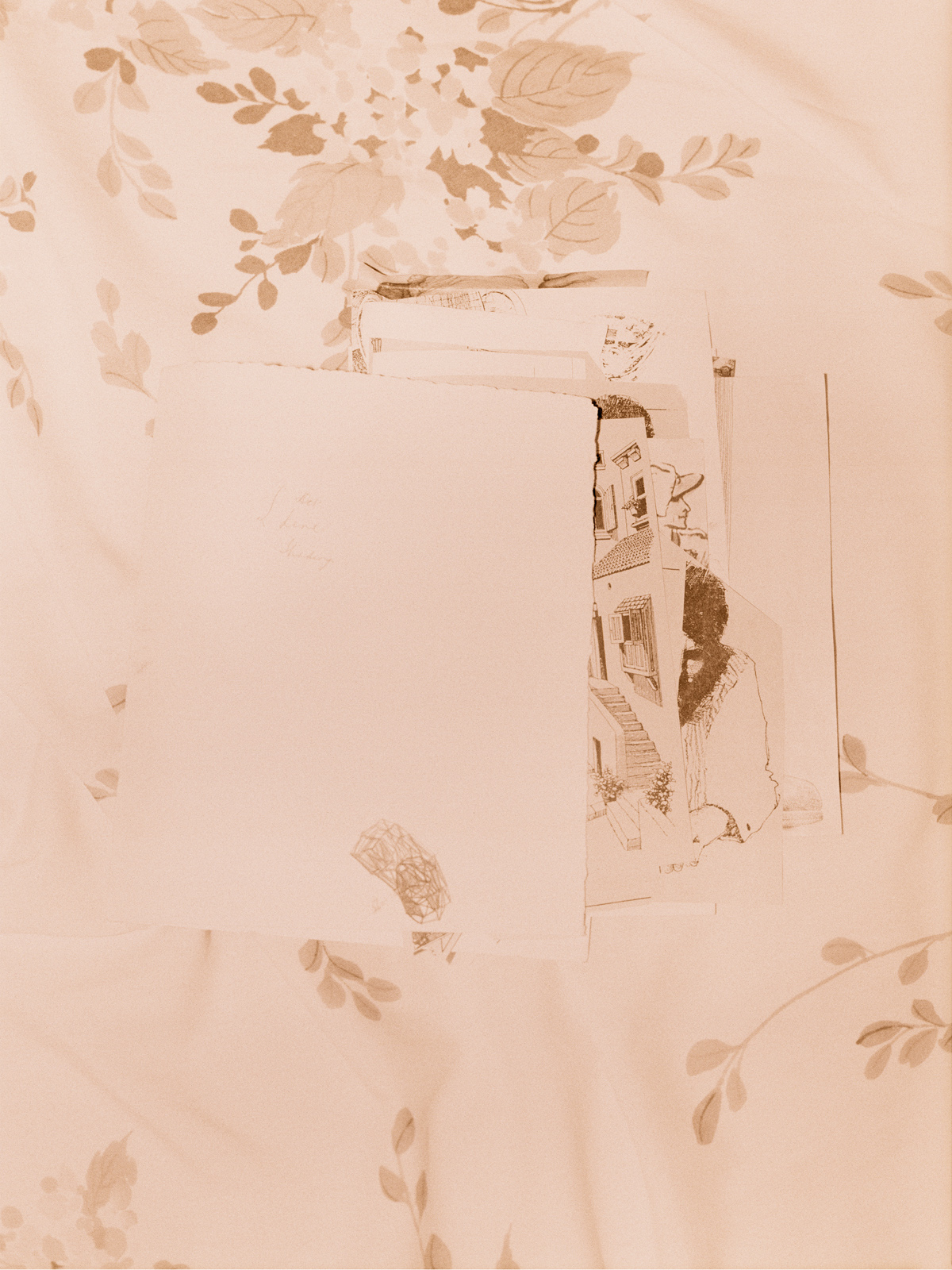 ...
In the Third
(2019) uses text, image, and collage to visually articulate a connectivity across three generations of women artists in my family. The mediums of collage and photography allow for layered negotiations of memory + imagination, family + autonomy, material + trace.
Text fragments used in the collage works are drawn from a poetic memoir
Her Paraphernalia
published by Margaret Christakos (my mother) in 2016. The book is a mid-life reflection on female agency, loss, and intergenerational connection through the mother-daughter lines of our family.
Imagery in the collages comes from an incidental archive of photo-clippings gathered by Mary-Jane Christakos (my mother's mother). She collected and obsessively organized imagery from art books and magazines to use as teaching materials for drawing and painting lessons led at her art store
The Artisan
in Sudbury, ON.
These collages are shown in dialogue with my photographs taken in Sudbury, the place that shaped my tangible connection to this matrilineage and my photography practice.
...



Image List
1 It is a Mirror I am Missing
2 You're the Spitting Image of my Woman Image
3 Once a Body is a Mother
4 From the Garden
5 On the Porch
6 Something Essential
7 Overlapping Appearances
8 Holding M.J.C.
9 A Hole
caption: "I look at her and think, there, she exists, like a tree, a lake, a sky, a planet, she exists, daughter." - Margaret Christakos,
Her Paraphenalia
, 2016
10 In the First
caption: "You definitely exist. You shimmer. You don't need a mirror. - Margaret Christakos,
Her Paraphenalia
, 2016
11 Motherlines
caption: "Alongside what I have embodied about my grandmother's girlhoods, and what I have been able to summon about their mothers and other women in our motherlines...with incessant rhythm, as lakes shift, and wind moves, and language undresses and confesses and curls." - Margaret Christakos,
Her Paraphenalia
, 2016
13 Suspension
14 Installation Shots from
A Thread to See Through
Exhibition
at
Alliance Française Gallery.
CONTACT Photography Festival. Toronto, ON.



A thread to see through
Exhibition Text

Through photography, collage, and text, artists Clea Christakos-Gee and Leyla Godfrey excavate their matrilineal relationships to foreground the beauty, mystery, and complexity of communication, and art's capacity as a vehicle for intergenerational transmission.

Christakos-Gee examines the creative practices that exist in her family across generations: her mother, noted Canadian artist and poet Margaret Christakos; and late-grandmother Mary Jane Christakos, a visual artist and owner of an art supply store. Using the respective artistic materials of both, Christakos-Gee makes new visual and textual assemblages that are presented in dialogue with her photographs taken in her mother's hometown of Sudbury, Ontario.

While Christakos-Gee approaches her subject matter from multiple vantage points using a medley of materials, Godfrey's inquiry is steadfastly photographic and representational. Over the course of many months, Godfrey has orchestrated numerous photographic rendezvous with her grandmother, Disa Adelman. Initially spurred by a mystery surrounding an unspoken secret, Godfrey eventually cameo understand her grandmother's privacy as a strategy for maintaining a form of independence. The result of her repeated photographic probing is a large collection of intensely psychological portraits.

Presented together, both artists offer intimate visual schemas that illustrate forms of communication across a range of distances created by time, death, secrecy, and circumstance.

Curated by Benjamin Freedman in participation with the 2019 CONTACT Photography Festival